Mar 24, 2020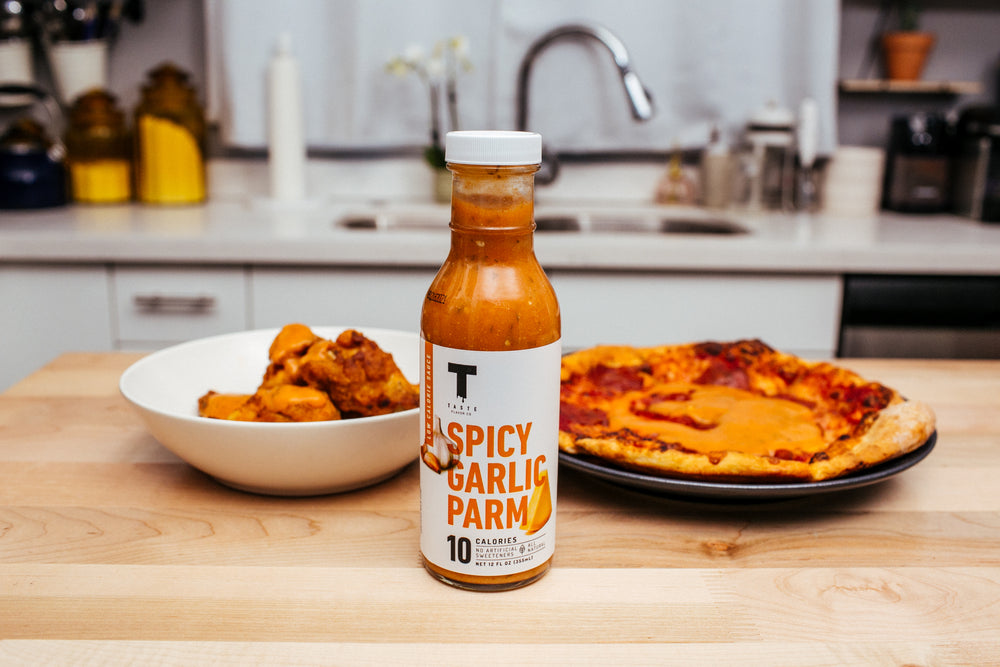 Pizza and wings. It's a fan favorite, but banned from a healthy lifestyle. not anymore! In 30 minutes, you can have that delicious take-out dinner that's been in the back of your mind for weeks, but without tons of fats, carbs, and calories that you might not need.
We're going to use a tortilla for the crust to cut down on calories, fat free cheese, and an air-fryer for our wings so that some of the fat drips away to give you a leaner wing. Of course, we'll be using our 10 calorie Spicy Garlic Parm, which is a great wing sauce and pizza sauce, and the Cilantro Lime Ranch for dipping yours wings. We added a little chicken to the pizza for the extra protein, but you can skip that if you prefer a nice crispy cheese pie.  Enjoy guys!
Spicy Chicken Parm Pizza
PREP TIME: 20 MINUTES
CALORIES: 346
PROTEIN: 52 grams
CARBS: 11 grams
FATS: 12 grams
INGREDIENTS
1 low carb mission tortilla wrap
1 teaspoon of olive oil
1 tsp garlic powder
Salt and pepper to taste
¼ cup of tomato sauce
4 oz chicken breast
½ cup fat free mozzarella cheese
STEPS:
STEP 1: PREPARE OVEN
Preheat oven to 400 degrees F
STEP 2: COOK CHICKEN
Place 2 tbsps of TASTE spicy Garlic Parm on top of chicken. Spray a frying pan with non calorie cooking spray and turn on medium hear.
STEP 3. PREPARE TORTILLA
Place tortilla on baking sheet. Brush tortilla with olive oil and sprinkle garlic powder, salt, and pepper on top. Cook for 3 minutes or until golden brown.
STEP 4. ARRANGE TOPPINGS
Remove tortilla from the oven and spread tomato sauce on top. Sprinkle mozzarella cheese evenly over the top and add oregano and any other spices. Evenly spread the 4 oz of chicken over the pizza.
STEP 5: COOK THE PIZZA
Place the pizza back in the oven for 5 minutes. 
AIR FRIED SPICY GARLIC PARM WINGS WITH CILANTRO LIME RANCH DIPPING SAUCE
PREP TIME: 30 minutes
INGREDIENTS:
5 chicken wings
Salt
Cooking spray
Taste Cilantro Lime Ranch Sauce
NUTRITION:
CALORIES: 583 calories
PROTEIN: 45 grams
CARBS: 8 grams 
FAT: 40 grams 
STEPS: 
STEP 1: Lay out your chicken wings and pat them dry with a paper towel. Sprinkle salt over the wings.
STEP 2: Place the wings in the air fryer without the wings touching. Set the fryer to 360 degrees and cook for 12 minutes. Flip the wings and cook for another 12 minutes.  Flip wings one more time, increase temperature to 400 degrees and cook for another 5 minutes or until the wings are crispy.
STEP 3: Place two servings of TASTE Spicy Garlic Parm Sauce in a small bowl. Mix the wings in the bowl until the wings are completely coated.
STEP 4: Pour two servings of TASTE Cilantro Lime Ranch Sauce in a separate bowl.
STEP 5: ENJOY!