Mar 01, 2020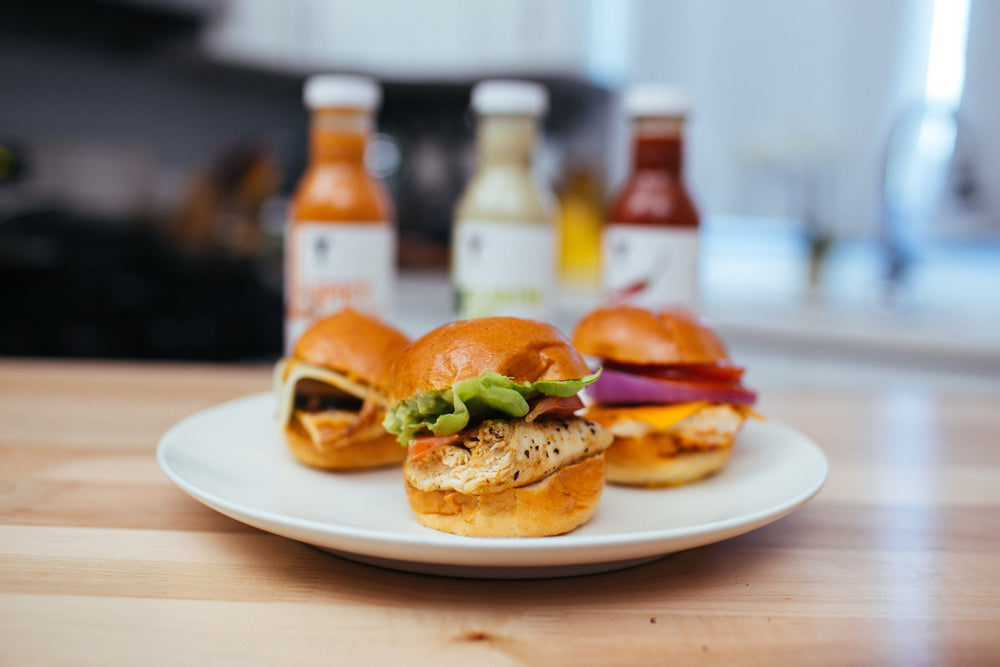 Whether you're just getting started with eating healthy, or you're a clean-eating veteran, it can get tough. Lightly seasoned veggies and lean proteins, a cup of rice or some root vegetables. Over and over. Most of the time it's no big deal, but every once in a while you catch yourself dying for a cheat meal. That's okay — balance is good, as long as you don't let balance turn into a bad habit.
Here is a cheat meal alternative that will satisfy you without going overboard. The TASTE Chicken Slider Trio is a great way to have a few burgers without regretting that you acted on your cheat meal impulse. Each slider is a little different to give you variety in nutrition and flavor. You can always add some baked or air-fried fries too.
Today, we made a
Chipotle BBQ Slider
, an
Avocado Ranch Crema Slider
, and a
Portobello Parm Slider
. They're all WAY leaner than going out for a burger, and they give you a little variety. 
Let's make them!
INGREDIENTS:
Ground Chicken (or chicken breast, thinly sliced)
Slider Buns
1 Large Tomato
1 Red Onion
Fat Free(or low fat) Cheddar Cheese
Low Fat Provolone Cheese
Olive Oil Cooking Spray
1 Portobello cap
Salt
Pepper
Garlic Powder
DIRECTIONS:
You can use thinly sliced chicken breast or ground chicken. It's your choice. Season your chicken with salt and pepper to taste, and form into patties or slices to fit your buns.

Using cooking spray on the pan (no oil!) cook chicken thoroughly. TIP: You can cook the chicken in the sauce for bonus flavor.

Season your portobello cap with salt and pepper and cook it in the pan until it is soft and slightly browned.

Toast your buns if you get down like that.
Now we're going to build the sliders.
Chipotle BBQ Chicken Slider:
Place your chicken chicken on your bottom bun and top it with cheddar, a thick slice of tomato, and red onion.

Here's the best part! Drizzle your Smoked Cherrywood Chipotle BBQ on your slider and add the top bun.
Avocado Ranch Crema Chicken Slider
Place your chicken on the bottom bun.
In a separate bowl, mix half an avocado with Cilantro Lime Ranch until it is a nice, creamy texture, and pour over your chicken.
Add some leafy greens, a little more ranch, and close your slider. 
Portabello Parm Slider
Add your chicken and portobello cap to your bottom bun top with a slice of low fat provolone.

Drizzle some Spicy Garlic Parm over top and close your slider.
ENJOY!
Power to the palate, 
Team TASTE